If WordPress is the MOST popular CMS with one-fifth of the all websites built on it, Magento has the distinction of being the MOST popular CMS for e-commerce. Some of the biggest brands including Samsung, Fort, Fox Connect, Levono, Olympus, Men's Health, Vizio, Nestle Nespresso and Nike use Magento and so do millions of small and midsized ecommerce companies around the globe.
Read: Why You Should Use WordPress as CMS for Your Website [Unless it's an Ecommerce Website!]
At Digital6 Technologies, Magento based websites actually make up the bulk of all ecommerce projects we handle each month. We've many WordPress specialists, some of them developing custom plugins and themes for around a decade now and so, the natural choice for an e-commerce website at our end seems to be WooCommerce. Even though WordPress and Drupal are better than most other content management systems for e-commerce, we know that Magento is the best option in most cases.
Magento literally dominates the e-commerce market with around 26% share; such large scale adoption and popularity shouldn't obviously be without some very strong reasons. Here are the top 10:
#1. Magento is Open Source
Magento Community Edition is free. You can install, alter or use this edition of Magento in any manner you like. If you have a Magento specialist by your side, it's possible to supercharge the Magento code and power up the ecommerce website with new features and desired functionality by installing Magento extensions. These extensions are made available through Magento Connect marketplace.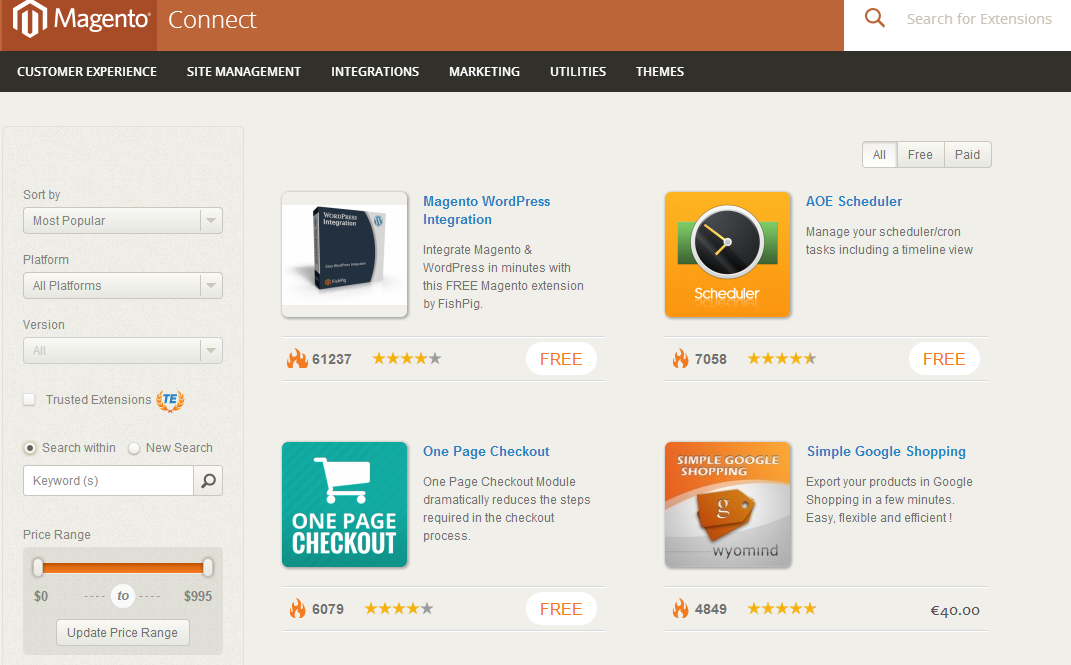 #2. Community Support
Since it's an open source solution, there's a large community of developers around the world working on it on a day to day basis, ensuring the ecommerce platform is up to date, secure & fast. Help is readily available.
#3. Built for E-Commerce
WordPress, although considered a full-blown CMS today, isn't built specifically for e-commerce like Magento. That's precisely why Magento scores over 'Wordpress + WooCommerce' and 'Drupal + Drupal Commerce' combos. This ecommerce solution comes preloaded with scores of features and specs needed to put up a functional e-commerce website.
#4. Highly Scalable
Magento is suitable for small e-commerce companies serving just one town or a state as well as MNCs. It grows with your business; regardless of the kind of e-commerce features or enhancements you need, Magento will never fail to surprise you (pleasantly, of course!).
No wonder why so many Fortune 500 companies (most having very complex e-commerce operations) are using Magento.
#5. High Performance
When it comes to page load speed, query processing time and other such performance parameters, Magento emerges as a winner again.
Read: Why Website Load Speed Matters
A few hundred milliseconds of delay in processing user requests can literally kill an e-commerce website's potential to convert site visitors into customers; Magento with high-end caching techniques such as Varnish and other DB optimization techniques leaves e-commerce enterprises with no complaints.
#6. Flexible
Magento has open system architecture; a Magento specialist can therefore help create appealing and highly unique user experiences corresponding to different types of access devices.

It is also possible to add customized back-end workflows to meet specific business requirements. With Magento, a modular ecommerce solution at the core, you're in control of how you want your ecommerce website to look and perform.
#7. Multi Tenant
With one backend CMS, Magento allows you to create multiple online stores.
You can control all of your inventory, billing tasks, customer records etc. from a single admin dashboard.
#8. Easy Integrations
Integrating Magento with a multitude of third party services including payment gateways, database applications, shipping, shipment tracking etc. is quick and easy.
In addition to this, the platform is already associated with Google Analytics, Google Checkout and Google Base.
#9. SEO Friendly
Much like WordPress, Magento is a highly SEO-friendly content management system. It comes preloaded with various SEO features such as search engine friendly URLs, sitemaps, layered navigation, URL rewrites, meta tags, descriptions etc.
#10. Support for Mobile Commerce
Both Community and Enterprise editions of Magento e-commerce CMS are now incorporating multiple HTML5 capabilities, thus ensuring provision of superior mobile shopping experiences.
From image scaling and AV capabilities to gesture based controls, Magento based stores can also have drag and drop features.
Need a Magento Specialist to Help You with Something?
Fill out this quick contact form or ping our Live Client Support chat box (below).
We're here to help. You just need to ask!