Internet users today expect an ultra-quick response to their web requests. They literally feel repelled by websites that seem to take 'forever' to load.
Strange as it may sound to some webmasters, 'forever' for most internet users in this case is just around 2 to 3 seconds.
2-3 seconds, yes! That's all you've got before a potential customer deserts your web page & visits a competitor's website.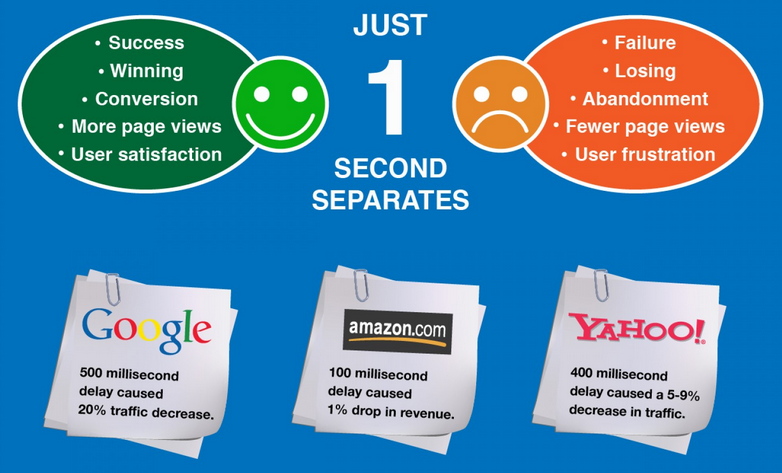 Credits: Yotta, Inc.
The only exception to this well accepted rule takes place when you're serving videos or lots of pictorial content at once. In this case, the user does not fanatically expect an ultra-fast response. Slow website loading time, except in this specific case, is a cardinal sin.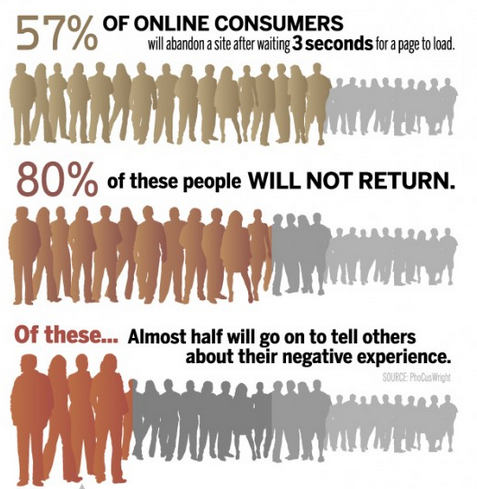 Credits: PhoCusWright, StrangeLoopNetworks.com
A computer scientist & speed specialist at Microsoft, Harry Shum told New York Times in February, 2012 that a website can gain a competitive advantage over the other if it's just about 250 milliseconds faster.
Impatient Netizens flee slow loading portals in almost no time. Some may even 'remember' not to visit such sites the next time they appear in search results.
Since websites having shorter load times are more likely to create happy customers, it was only natural for Google to include site speed as a ranking parameter in its algorithms in April 2010. An internal 'Make Web Page Faster' program was launched at Google a year before that. For an entity that harvests most revenues from the World Wide Web, speed matters also because emergence of a speedy Internet implies more profits.
How important is Website Load Time for a Better Google Rank?
Site speed matters but it's one of the many signals.
Having a fast website does not necessarily guarantee a page rank increase but slow loading websites do stand to lose the ground sooner or later.
According to Google, only a fraction of search queries are affected by 'page load speed as a parameter' and if you want to know if your website happens to be in that bracket, you'd have to focus on increasing the website load speed.
How to Calculate the Load Time of a Website?
There's no dearth of online tools for calculating page load times; when it comes to performance analysis and suggested remedies for unusually low site speed, some tools come out as better than the rest. We've listed out a few:  
How much site load time is good, you'd ask. Well, the answer is and will always remain – immediately – your website should populate user's web browser as soon as possible.
While your website cannot be a speed demon like Google, Bing and Yahoo, you sure can improve your website's page load times by hundreds and in some cases, thousands of milliseconds.
Time engineering is important too. Many retail websites, for example, load in multiple stages so as to provide something useful to users as quickly as possible. A website may serve some web page components in about 2-4 seconds and take a bit longer to become fully interactive. 
Final Words
Improving website load speed is imperative because both Google & your customers want that.
While mildly improved organic traffic may not interest every internet enterprise (although there's a good chance the search engine traffic would improve), a low bounce rate and satisfactory user experience almost certainly should.
How to Deal with Slow Website Load Speed?   
If you're not a techie yourself and your website's page load times are high, ask your web developer to look into the issue as soon as possible.
In case you want us to evaluate and improve the load speed of your website, don't hesitate to ask for help.
Fill out this short query form and we'll get back to you asap!